Garrett Ace 150 Review
The Garrett Ace 150 is one of the best selling metal detectors in the UK. It comes recommended by many as the best choice for those just getting started with the wonderful hobby of metal detecting. Easy to assembe and simple to use as well as having a good mixture of quality and affordability, its easy to see why it remains a popular choice for beginners.
In this review of the Garrett Ace 150 we will be taking a closer look at the individual features and the capabilities of this entry level metal detector.
This is the most basic model out of the Garrett series of metal detectors. Other models in the series suitable for beginners include the Ace 250 and the Euroace.
You can compare them and their features in the comparison table below.
Garrett Ace 150 Assembly
With the Garrett Ace 150 been aimed at beginners they have made it as easy as possible to assemble. Even if you aren't very technically minded you would still have no trouble putting it together. It only takes a few minutes to have the 150 setup and running.
There are just a handful of parts that require your attention these include the main interface, pole, coil and coil wire. The main part of the assembly consists of attaching the coil to the pole/arm with a wing nut. If you somehow manage to struggle with this there is an instruction booklet.
Once you have put it together you can then put the batteries in and you are ready to go!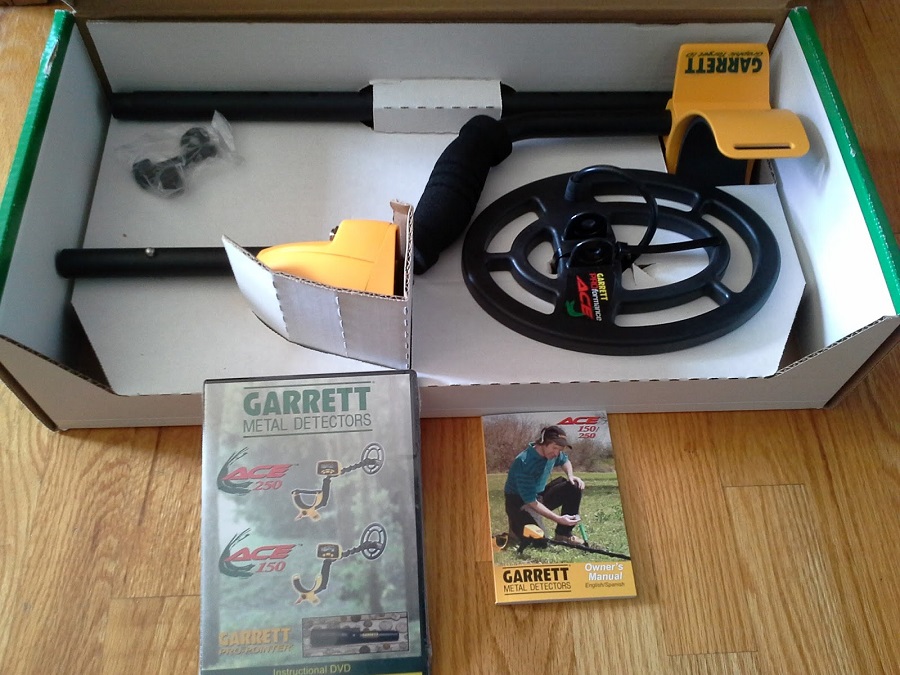 Ease Of Use
Again with this been a beginners metal detector the Garrett brand have done there very best to ensure that it isn't too complicated to use. This is mainly thanks to the large control panel and LCD screen that clearly shows you all the important information about your current settings.
The settings on the Garrett Ace 150 are very simple to understand and it only takes a short time to familiarise yourself with them. In total there are just 3 buttons on the Ace 150 these are Mode, Sensitivity and the power switch.
Below is a quick overview of what each button is for.
Mode – This button lets you switch between the 3 different search modes, all metal, coins and jewellery
Sensitivity – Allows you to adjust the overall sensitivity of the metal detector
Power Switch – Do I really need to explain this one?
Another factor that has a big impact on the ease of use of a metal detector and one that often gets overlooked by beginners is comfort. Garrett have taken the ergonomics of the Ace 150 in to account when designing it and have made it as comfortable as possible to use.
It comes with a soft sponge padding on the forearm and hand grip. In addition there is a Velcro strap for additional security and support. These two simple features make it a joy to use. The relatively lightweight of 1.87 Kg also make it suitable for both young and old alike.
Search Modes and Tones
In total there are 3 basic search modes with the Ace 150 these are the All Metal Mode, Coin and Jewellery. The audio ques or "tones" associated with the modes are very clear and it doesn't take too long to learn to differentiate between them.
This was the first metal detector that I bought and with that been nearly a decade ago, I was very keen to see how the Ace 150 had been improved over the years, if at all. I am glad to say that in field tests it performed very well.
As the name suggests, in the "All Metal Mode" the Ace 150 picks up all types of objects. Small coins detected give off a short clear note, anything Iron gives a low tone, large coins and precious metals will give the  well-known "double dinger" that you get with all Garrett metal detectors.
In Jewellery mode you can expect all Iron signals to be filtered out. In tests this is indeed the case and old coins and other metallic items are still picked up.
Coin mode is pretty much as expected with all types of coins been easily picked up and junk such as ring pulls been left behind.
Garrett Ace 150 Capabilities and Features
Depth
In the all important depth test, the Garrett Ace 150 is sold as been able to locate finds buried up to 8 inches in the ground. In my experience this is a fair representation of this model, however, it is worth mentioning that it is possible to find objects buried a few inches deeper than this. This factor is determined largely by the ground conditions.
Battery Life
Garrett metal detectors are known for having a long battery life and the 150 is no different. In total it takes 4 AA batteries to get this beast fired up and this roughly provides up to an incredible 40 hours of detecting time.
In my experience with this detector I used to get between 30 and 35 hours before the batteries died. All in all this is still a very respectable amount.
Interchangeable Coil
The Ace 150 comes with the new PROformance Rhino 6.5″ x 9″ coil as standard. This coil has a good size to it and does a good job. However, if you prefer a larger coil there is the option to upgrade. The good thing about Garrett coils is that they are interchangeable between models. For example the coils on the Ace 150 can be used on the EuroAce as well.
Garrett 4.5″ Sniper Coil
Garrett 6″ x 9″ Coil
The Garrett 8.5″ x 11″ Coil
Garrett 9″ x 12″ Coil
Pros
Lightweight
Affordable
3 Search Modes
Long Battery Life
Great For Beginners
Comes with 2 books on Roman and pre decimal coins,
Cons
Non Waterproof
No Battery Level Indicator
No Pinpointer
Summary
The Garrett Ace 150 is one of the most popular metal detectors on the market for a good number of reasons. If you are on a budget and looking to get in to metal detecting you will struggle to get better value for your money.
First of all, it is a great entry-level detector that surpasses anything else in the same price bracket in terms of quality. Furthermore, we then have the fact that it is very easy to operate and holds its value very well. If you decide to upgrade in the future you can get a large percentage of your money back when selling a Garrett metal detector.
As with every product there are a few negatives to point out. With the Ace 150 these include the very loud tones it gives off. Unfortunately, there is no volume control so I would recommend buying a set of headphones to go with it. In addition this is not considered a good choice for beach metal detecting. It is worth pointing out that it can be used in water but the main interface/control box will need a cover of sorts as this is not waterproof.
To sum up there is a long list of very happy customers that have bought this model and if you are just starting out it comes highly recommended. However, if you can stretch the budget a bit further the Garrett Ace 250 is another great choice for beginners.